Playing all kinds of sports can be very fun when playing at night, especially on warm days like in summer or spring. For full enjoyment of the game is critical to have good lighting that will fulfill the minimum lighting requirements while maintaining minimum glare. Another important factor to consider especially nowadays with world energy crises is to spend a minimum amount of electricity.
Before upgrading your sport field like tennis, soccer, baseball, or any other with new lighting most important is to consider a professional light plan. Planning the lighting in the form of a photometric report will produce the most effective illumination of the court and will improve visibility and reduce glare.
Here are some tips to consider before upgrading the lighting.
For now, I will elaborate on tennis field lighting.
Choosing the right category of the Tennis Light Field
According to the European standards for sports fields lighting EN 12193:2019, first, we should define which category will be our tennis field. There are 3 categories and there are different requirements for each category. The table below is shown the minimum requirements for each category. This table is for European standards in lux but it same or very similar to USA standards. Bellow categories are for outdoor and for indoor tennis fields.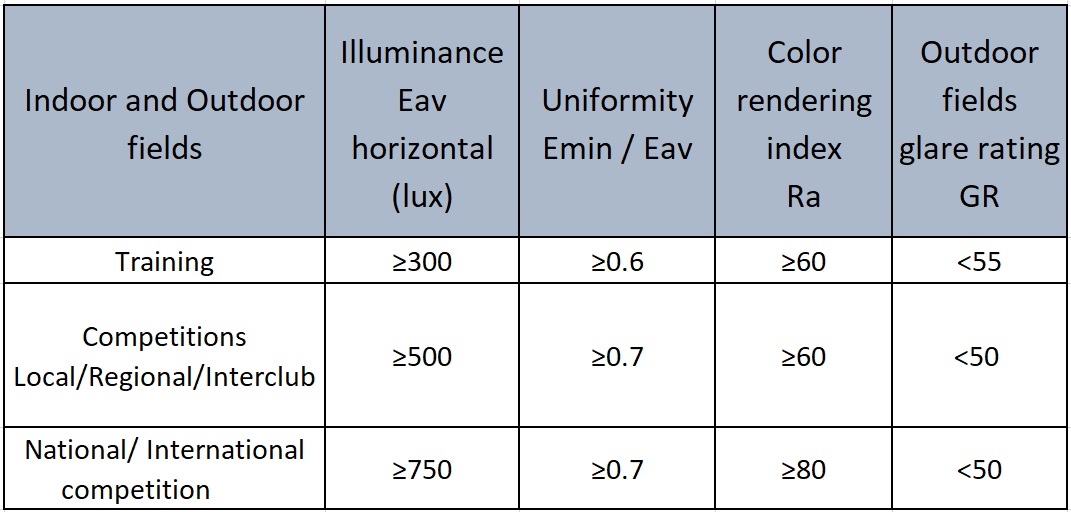 Next, when we define the category we can start planning the lights like wattages, beam angles, color temperature, and pole heights. If it is a new field we can suggest the height of the pole, and if there are already poles installed we can choose lights with a corresponding height of the poles.
Photometric report
A photometric report is done by a professional lighting designer and it should be some kind of guarantee that all of the requirements in table 1 will be fulfilled. This small but very important investment can save us lots of money and time. If we don't have a photometric report or we have unprofessional with no details we are risking having lots of problems on the field. This can produce a lot of readjustments that take a lot of time and energy.
The photometric report is done with professional lighting software like Dialux 3.14, AGI32, Relux, and others software, for example, some lighting companies have their own software.

Latest posts by Stefan Trajkovski
(see all)