When it comes to addressing the dark sky and preserving the environment and night-time visibility, it is important to consider BUG Ratings.

The Illuminating Engineering Society (IES) and DarkSky develop these ratings to design and categorize outdoor lighting fixtures with the aim of reducing light pollution. To understand the concept of BUG Ratings and their application, it's important to first understand what a Lighting Zone (LZ) is and then decode what each letter in BUG means.
Lighting Zones (LZ) are classifications that determine the acceptable levels of both light and factors such as Up-light, Backlight, and Glare in a given location. Each LZ corresponds to a set of acceptable BUG ratings.
BUG Ratings provide information about the backlight (B), uplight (U), and glare (G) produced by an outdoor light fixture. To be always permissible within a specific lighting zone, the BUG Rating must fall within predefined limits.
What are Lighting Zones and Why do they matter
Lighting Zones, often referred to as Lighting Zones (LZ) are from LZ-0 to LZ-4. These classifications used to determine the appropriate levels of outdoor lighting. Also are used to control of undesirable light emissions in different areas. These zones matter because they play a crucial role in addressing light pollution, protecting the environment, and ensuring night sky visibility. Here's a breakdown of what Lighting Zones are and why they are significant:
Classification of Areas: Lighting Zones categorize areas based on their specific lighting needs and environmental considerations. These zones are typically determine by local authorities or organizations concerned with minimizing light pollution.
Different Lighting Requirements: Each Lighting Zone is associate with different lighting requirements, which include criteria for the amount of illumination, as well as restrictions on factors like up-light, backlight, and glare. These criterias are develop to the unique characteristics and needs of each zone.
Minimizing Light Pollution: The primary objective of Lighting Zones is to minimize light pollution. Light pollution occurs when excessive, uncontrolled artificial light interferes with the natural darkness of the night sky. This interference has demaging effects on both the environment and human health.
Preserving Night Sky Visibility: By defining appropriate lighting levels and limiting light spill, LZs help preserve night sky visibility. This is crucial for astronomical observations, the well-being of nocturnal wildlife, and the enjoyment of natural nightscapes by people.
Energy Efficiency: Properly designed outdoor lighting in accordance with LZs can result in energy savings. It stops wasteful over-illumination and ensures that light goes where it's necessary, cutting down on energy usage and the related expenses.
Compliance and Regulation: Lighting Zones often serve as the basis for local regulations and ordinances related to outdoor lighting. Compliance with these regulations helps communities manage light pollution and create more sustainable lighting practices.
Lighting Zones LZ-0 to LZ-4
Lighting Zone 0 (LZ-0) is a zone that is use in outdoor lighting. This is Zone where there is no lighting at all or it is on absolute minimum. LZ-0 is characteriz by extremely low levels of ambient lighting, and the primary objective is to preserve the naturally dark environment. It typically includes the following types of areas:
Undeveloped Open Spaces: Vast natural areas, wilderness zones, and undeveloped landscapes where preserving the darkness of the night sky is essential. This includes parks, forests, and protected wilderness areas.
Wilderness Parks and Preserves: Areas specifically set aside for the conservation of natural ecosystems, where minimizing light pollution is critical to protect wildlife and maintain the pristine environment.
Areas Near Astronomical Observatories: Proximity to astronomical observatories is crucial to avoid interference with telescopic observations. LZ-0 ensures that light emissions from nearby sources do not hinder astronomical research.
Critical Dark Environments: Any other locations where maintaining an exceptionally dark environment is of utmost importance, often due to scientific, cultural, or ecological reasons.
Lighting Zone 1 (LZ-1) is a classification in outdoor lighting design to specify lighting requirements for different areas based on their intended purpose and desired ambient lighting levels. LZ-1 is characterize by the desire for low ambient lighting levels. It typically includes the following types of areas:
Single and Two-Family Residential Communities: LZ-1 is often applies to neighborhoods comprised of single-family and two-family homes. In these areas, the goal is to maintain a subdued and comfortable nighttime lighting environment for residents.
Rural Town Centers: LZ-1 is usually use in small town centers in rural areas. The emphasis is on preserving a peaceful and aesthetically pleasing atmosphere with minimal nighttime illumination.
Business Parks: Design areas for commercial or industrial activities with limited nighttime operations. The focus is on reducing light pollution and creating a lighting environment that balances safety and aesthetics.
Commercial or Industrial/Storage Areas: Locations with commercial or industrial facilities, warehouses, or storage areas that do not require intense nighttime lighting due to limited nighttime activity.
Developed Areas in Parks and Natural Settings: LZ-1 may be applied to sections within parks, nature reserves, or other natural environments where artificial lighting should be designed to minimize light pollution and preserve the natural character of the surroundings.
Lighting Zone 2 (LZ-2) is a classification used in outdoor lighting design and regulations to specify lighting requirements for different areas based on their intended function and desired levels of ambient lighting. LZ-2 is characterized by a moderate desire for ambient lighting, falling between the higher illumination levels of LZ-3 and the lower levels of LZ-1. It typically includes the following types of areas:
Residential Neighborhoods: LZ-2 is commonly applied to residential neighborhoods with a mix of single-family and multi-family dwellings. The lighting in these areas aims to strike a balance between providing sufficient illumination for safety and maintaining a comfortable, moderately lit environment.
Commercial and Retail Areas: Shopping districts, commercial plazas, and retail centers often fall into LZ-2. The goal is to ensure that these areas are well-lit for customers and pedestrians while avoiding excessive light spill and glare.
Urban and Suburban Streets: Some urban and suburban streets may be designated as LZ-2 to provide suitable lighting for vehicular and pedestrian traffic without over-illumination.
Public Parks: Developed sections of public parks and recreational areas may be categorized as LZ-2 to offer adequate lighting for evening activities while preserving the natural aesthetics of the park.
Campus and Institutional Areas: College campuses, schools, and institutional complexes may adopt LZ-2 lighting to balance security and visibility with energy efficiency and minimal light pollution.
Lighting Zone 3 (LZ-3) is used in outdoor lighting design and regulations to specify lighting requirements for various areas. LZ-3 is characterized by a moderate to high desire for ambient lighting. This zone is typically applied to areas where a higher level of illumination is necessary. It often includes the following types of areas:
Commercial and Retail Districts: LZ-3 is commonly used in commercial and retail areas. Areas like shopping malls, downtown districts, and business centers. These areas require more intense lighting to provide a welcoming and secure environment for pedestrians and shoppers.
Urban and Suburban Streets: Some urban and suburban streets may fall under LZ-3. Especially those with higher traffic volumes and a need for increased visibility during nighttime hours.
Industrial Zones: Areas with industrial facilities, factories, and warehouses may be categorized as LZ-3. To ensure that adequate lighting is available for safety, security, and operational purposes.
Public Gathering Spaces: LZ-3 can apply to public gathering spaces. Usually events like venues, amphitheaters, and outdoor stadiums, where brighter lighting may be necessary for evening events and performances.
Transportation Hubs: Airports, bus terminals, train stations, and other transportation hubs often adopt LZ-3 to provide enhanced lighting for travelers and ensure safety during nighttime operations.
Lighting Zone 4 (LZ-4) is a classification used in outdoor lighting design and regulations to specify lighting requirements for areas with a high desire for ambient lighting. LZ-4 is characterized by the need for intense and consistent illumination and is typically applied to the following types of areas:
High-Density Urban Centers: LZ-4 is often used in densely populated urban areas, particularly in downtown districts and central business districts. These areas require bright lighting to support a 24/7 urban environment, ensuring safety and visibility for both pedestrians and vehicular traffic.
Commercial and Entertainment Districts: LZ-4 is applied to commercial and entertainment zones, such as theaters, restaurants, nightlife districts, and entertainment venues. The aim is to create a vibrant and welcoming atmosphere, often with decorative or architectural lighting.
Sports and Stadium Facilities: Sports arenas, stadiums, and sports complexes are typically designated as LZ-4 areas to provide exceptional visibility for sporting events, concerts, and other large gatherings held during nighttime hours.
Major Transportation Corridors: LZ-4 may be used along major highways, bridges, tunnels, and transportation arteries to ensure high levels of visibility for safe and efficient traffic flow.
Security-Sensitive Locations: Certain security-sensitive locations, including government facilities, airports, and critical infrastructure sites, adopt LZ-4 to maintain strict security measures through intense and continuous lighting.
In LZ-4, outdoor lighting design focuses on delivering bright and uniform illumination to meet the rigorous demands of these areas while minimizing issues like glare and light pollution. The specific lighting requirements and regulations for LZ-4 can vary depending on local ordinances and guidelines.
WHAT IS BUG RATING?
The BUG Rating is a system that is use in outdoor lighting design to quantify and categorize the performance of outdoor light fixtures in terms of their light distribution and potential for causing light pollution. The acronym "BUG" stands for "Backlight," "Uplight," and "Glare," and each of these aspects is individually rated to provide a comprehensive assessment of a light fixture's impact on the surrounding environment. Here's a breakdown of what each component of the BUG Rating represents:
Backlight (B): Backlight refers to the amount of light emitted behind the fixture, which can contribute to light pollution by creating unwanted skyglow. The BUG Rating evaluates the fixture's back-lighting characteristics on a scale from 0 (no backlight) to 5 (high backlight).
Uplight (U): Uplight measures the amount of light directed upward from the fixture. Excessive uplight can contribute to light pollution and skyglow. The BUG Rating assesses the fixture's uplighting on a scale from 0 (no uplight) to 5 (high uplight).
Glare (G): Glare evaluates the fixture's potential to cause discomfort or visual impairment due to excessive brightness or direct glare. The BUG Rating assesses glare on a scale from 0 (no glare) to 5 (significant glare).
The combination of these three individual ratings results in a concise and standardized BUG Rating, typically presented as three numbers separated by slashes (e.g., B1/U2/G3). Each number corresponds to the fixture's performance in the respective category.


The following tables display the thresholds for each subzone as well as these thresholds are determined by the standards set by the IES.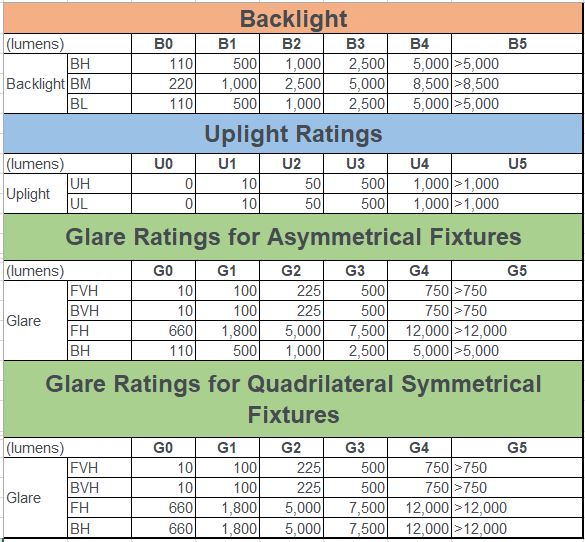 EXAMPLE OF THE FIXTURES BUG RATING
Here is one Example were three wall sconce are placed on the house facade on 10ft hight.
The House is located in Lighting Zone 2 so we need to test the IES file from the fixture to see what are the parameters. With the software for this wall sconce we get the bellow results.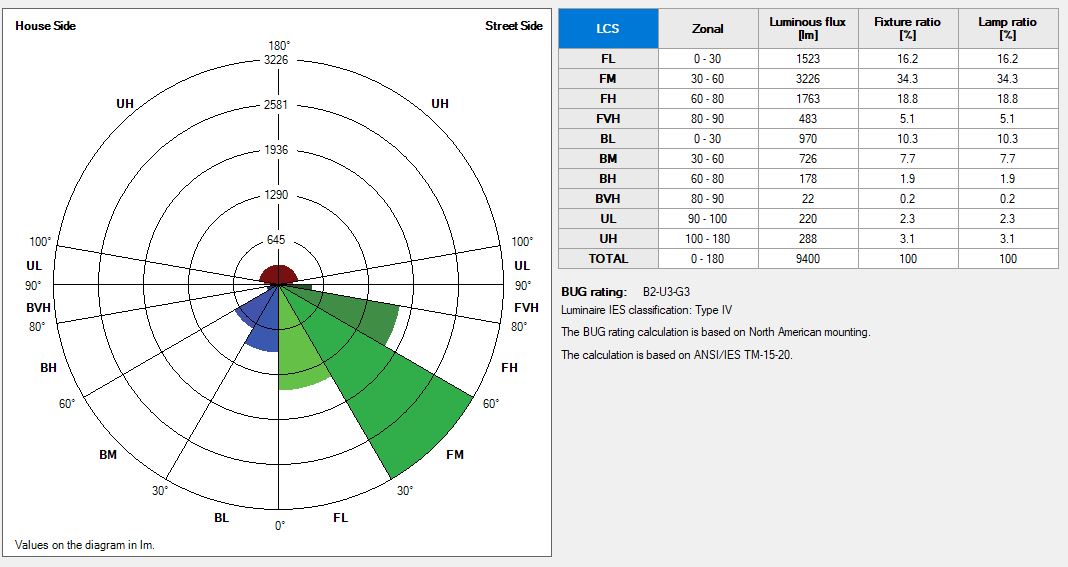 The fixture BUG Rating is B2-U3-G3
BUG RATING AND PHOTOMETRIC PLAN
Managing BUG Ratings, Lighting Zones, Maximums and Minimums, and Light Trespass can be quite complex. Getting professional help from a lighting expert in Stetra Lighting is the best solution for you are project.
Learn more about Photometric plan

Latest posts by Stefan Trajkovski
(see all)